Collaborate. Communicate. Integrate.
Cloud-based Legal Project Management platform
Agility Blue Key Benefits
collaborate on team projects
Ensure projects are more efficient and profitable by tracking deadlines, project and task details, budgetary requirements, and other project factors all in one location. Dashboards provide a visual overview of your team's work-in-progress.
Communicate in the agility blue hub
Keep communication clear and visible for optimal collaboration by updating projects in real time. Use Agility Blue's Comments and Notifications hub to make comments, reply to team and client queries, and submit project requests.
integrate using the Agility Blue API
Add transparency to your team's projects, tasks, and billing through customizable reports. Use Agility Blue's API to integrate with many other software platforms, including billing, processing and review software.
Agility Blue Key Features
Intuitive dashboards
View and manage all team assignments in one convenient place.

Quickly drill down into specific categories such as tasks in process from specific clients, due dates, and task status.

Customize your dashboard layouts to fit your role and yours team's needs.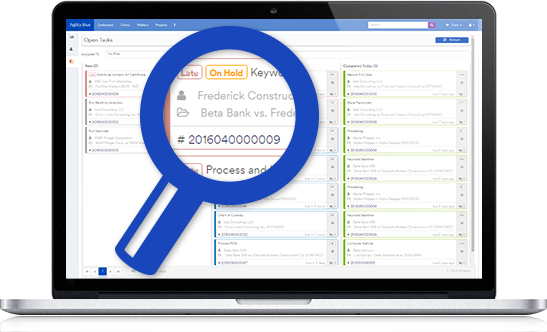 Team-Based Task Management
See all tasks organized by status in a dynamic, visual swim lane view.

Filter tasks to quickly see who is working on what tasks.

Edit tasks directly from the Task Board.

Create projects and tasks and add comments on the fly from within the application or by email.

Give clients and partners the ability to make requests and track progress through the Agility Blue Web Portal.
Powerful Reporting
Generate powerful custom reports within Agility Blue, and export to several formats.

Quickly create and export reports, charts, and pivot tables from the application.

Report on data from other applications using the Agility Blue API.
Connecting some of the most effective teams in the legal industry: